Yielding Anger, Finding Freedom
What if you could experience a more peaceful life with significantly less frustration, irritation, bitterness and anger?
How would that change your life, health, relationships and future?
Find out below!
Are Negative Emotions stealing your peace, affecting your relationships and stressing you out?
2020 was an emotionally challenging year for everyone. And now in 2021 we can see it affecting how we relate to others.
Perhaps we find ourselves being more easily irritated, annoyed and angry with the everyday things in our life. Or one moment we are fine and the next moment we are boiling over with anger and trying to stuff our irritation so it doesn't spill out.
Maybe we wonder what's wrong with us (and others) as we go from one irritating situation to another. We hope the situation changes, but we realize that the pressures of our lives have changed this year.
Can we agree on this?
That a life like this is not what we want and not the life that God designed us for?
84%

of Americans believe that we are angrier now than we were compared to a generation ago.
And a significant

42%

have felt angrier in the past 12 months than in the past.
Yet each of us has a choice.
We can choose to not settle with letting anger, irritation, frustration and other negative emotions create more issues in our lives.
You Can Find Freedom from Negative Emotions!
Your Anger is Unique…
Most of us don't realize how many ways anger can be expressed.
It can appear as frustration, irritation, sarcasm, impatience or bitterness. Or as rage, yelling, swearing, threatening and withdrawing from others.
Sometimes it appears in self-loathing, self-abuse, being critical, judging others or holding grudges.
Some of us stuff our anger. Or express it openly. Maybe we express it toward family. Or only at work. Or while driving. When we are hungry. Or often when tired.
Each time it has negative effects on our mind, emotions and body.
Studies show anger increases stress on our mind and body. It negatively affects our immune system. And we all know that it harms relationships and destroys intimacy.
So what do we do? Minimize it? Ignore it? Blame others? Deny it exists? Count to 10?
Maybe it's time to find a lasting solution. One that identifies the roots, applies truth and gives us the freedom to live an anger-free life.
That's why we created this YIELD ANGER COURSE. To help you experience freedom from every expression and type of anger.
Everything you will learn is practical and based on the ancient wisdom of the Bible. As you apply this wisdom you will find new freedom, new hope and a fresh understanding about your anger. Your self-awareness and emotional intelligence will grow. Plus you will see your heart changing each week as you experience truth.
You want these benefits in your life!
Less stress on your mind and body
More peace in your daily life
Deeper relationships with others
Improved decision-making unclouded by emotions
More self-awareness of your feelings
More clarity about how anger is working in others
Practical ways to use your anger for good
Here's What You'll Get When You Enroll!
Instructional Videos

Each of the 8 Modules has short 3-10 minute videos designed to lead you step-by-step in discovering how your anger works, what is behind your anger and how to kill the roots that give it power. There are 29 videos you can watch. And you can watch the videos from any internet device!
DISCOVERY SHEETS

Each of the lessons includes a PDF Discovery Sheet that lists the key points of the lesson and provides thoughtful questions for you to apply. When doing the Course with friends, the questions will guide the conversation either in-person or remotely over the internet. Just download when needed.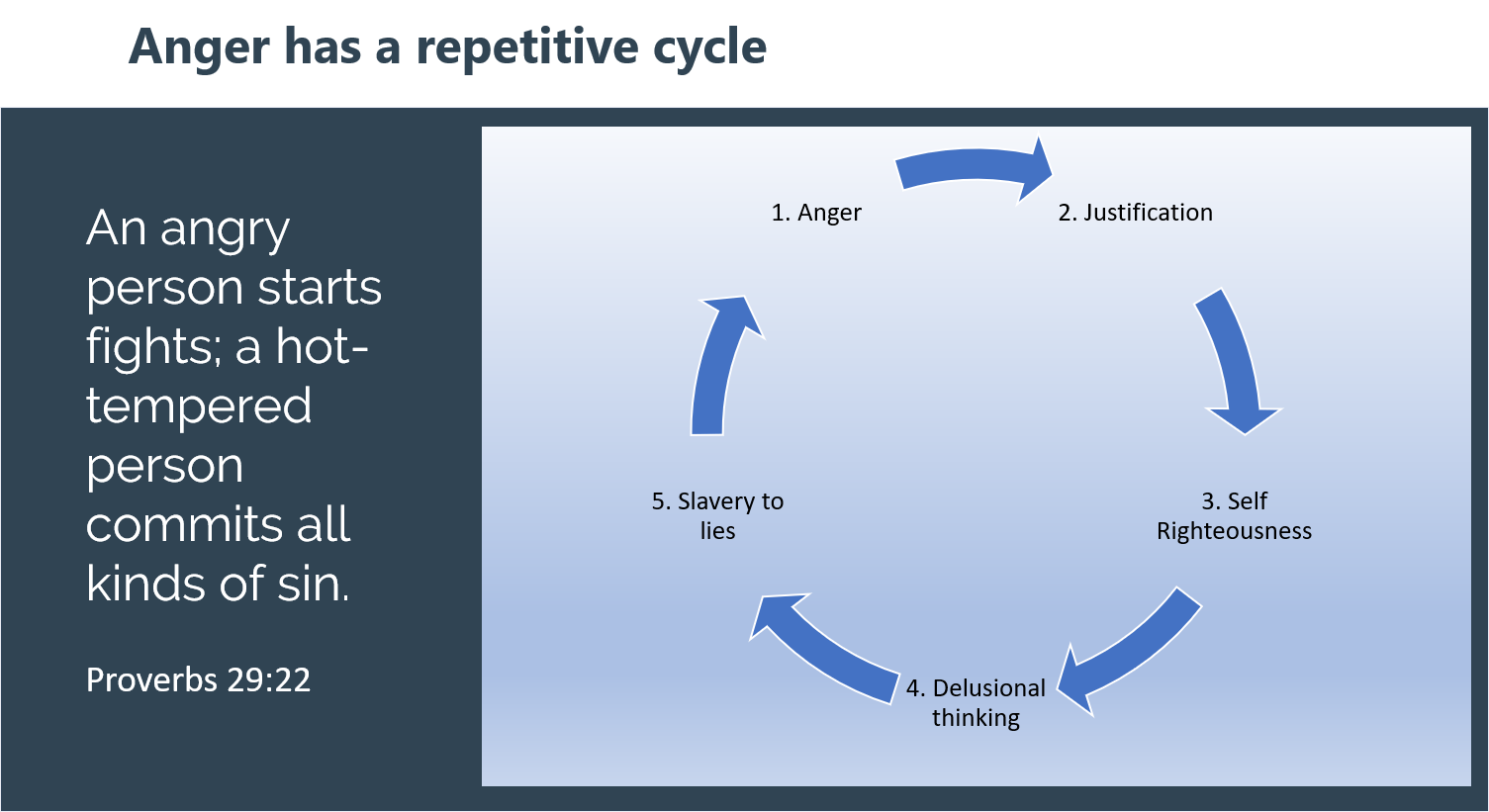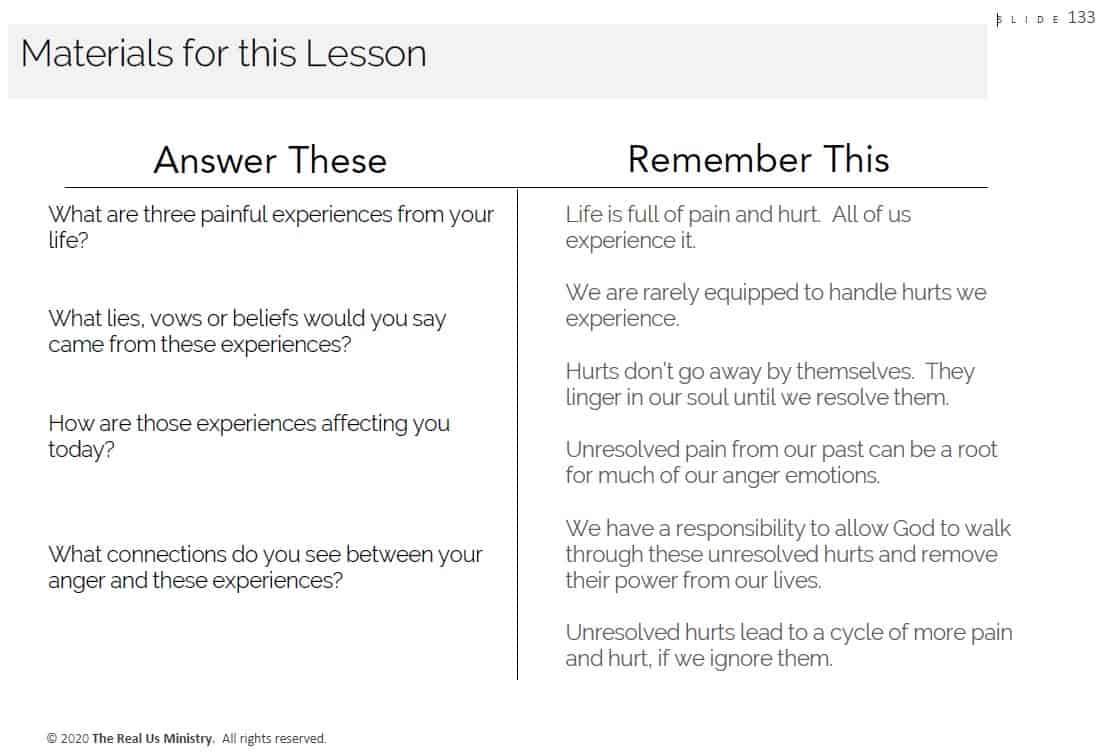 What our Students are saying!
I did not feel anger was my issue…
I don't escalate in my anger like others I know, so I did not feel Anger was my issue. I took the course then realized Anger wears many faces and mine was less expressive, but every bit as destructive. I valued the transparency in my group as we worked to the identify the roots of our Anger issues. I highly recommend this course even if you feel you don't struggle with Anger. The questions will probe your understanding to help you identify patterns, blind spots and root issues.
Chris … Real Estate Manager
For the person who doesn't think they have Anger issues!
I was surprised because I had more Anger issues than I'd thought. The course helped dig down and reveal my motives for Anger. I would absolutely recommend this Course! It's more of an issue than many of us think. It's definitely for the person who thinks they don't have any Anger issues at all.
Anne … Mom
How God uses Anger in our lives…
My spouse and I picked this course upon the recommendation of friends. The topics can be worked by an individual or as we did as a couple. The Course is laid out in a combination of how God uses anger in our life, and how His anger is different from ours. I highly recommend this Course because its focus is on you. What you can control is yourself, not others.
Matt … Business Owner
Click any of the tabs belowto view the Lesson topics!
Introduction to Anger – Module 1
What is Anger really?

How is Anger commonly expressed?

What costs does Anger have in our lives?

What are common approaches to reducing Anger?
Origins of Anger – Module 2
Biblical Origins of Anger

Understanding God's Anger

Slow to Anger – God's Side of History

Dependence on God
Exploring My Anger – Module 3
Deeper Thoughts on Anger

Focus of My Anger

My Family Tree of Anger
Roots of My Anger – Module 4
Anger and its Roots

The Power of Triggers

False and True Beliefs
Sources of My Anger – Module 5
Common Influences on our Anger

How Fears lead to Anger

How Past Hurts lead to Anger

Expectations and Anger

Personal Rights and Anger
Solutions for Anger – Module 6
Sin and Grace

The Power of Choice

Using Hope to disarm Anger

Anger Scene Investigation
Shutting the Door on Anger – Module 7
Your Secret SuperPower

Exercising Your SuperPower

Restoring Relationships
Making Yield a Lifestyle – Module 8
Surviving Setbacks

Leaving a Legacy

The Yield Process
you will also enjoy these bonuses …
Worksheets
We include four worksheets that you can use to process the key topics.
Community
you can interact with other students as you work through the videos.
motivation
You will Receive weekly email encouragement to keep you going.
Rob McMillen – Instructor
For over 30 years Rob struggled with anger both in his career and family life. Despite his success, he continually found that his his anger led to damaged relationships, dissatisfaction and stress. After he stepped down from a successful tech startup, he reached a crisis point. He was tired, angry, bitter and determined to get revenge.
But before that could happen, he spiraled into a deep depression. It was then that God began to get his attention.
He turned his focus to understanding what was going on in his heart. What he saw changed him powerfully.
His family began noticing changes in the first few months. He was no longer frustrated and irritated constantly. And his responses to stress and difficult situations were calmer and kinder. Now, twenty years later, Rob has continued to be free of his old anger. He gives the full credit to God's power and truth for the lasting changes he has experienced. And that's why he has such a passion to share the YIELD process with others, so they can find a better life.
Actual Student Comments about this Course!
Anger affected my life for years…
I realized that the roots of my Anger have affected my life for years. And that I cannot change my actions without God's help. It's a choice and it is not easy. However it is worth it.I see that Anger destroys the best God has for you. When you finally realize your part in the problem, then commit to walk with God in changing your actions, you will see fruit you never expected!
YvonneEducator
It is possible to rid yourself of Anger…
I never realized that all of my anger is sinful and that it is possible to rid yourself of it. What helped me most was identifying my Anger feelings and then identifying the root issue behind it (disrespect, fear, etc.).
SandyStrategic Business Manager
Anger wasn't my problem…
Most men struggle with anger. Few know why. This Course will make you one of the few.The Lord provided this Course for me in a period when I had only just begun to realize I have an anger problem. I was blowing up at my young son on a regular basis (think weekly). This Course showed me my anger wasn't the problem. It's the symptom.The Course is interactive in nature with reflection questions throughout. It's fantastic for a group study. That's how I did it. I learned so much from other guys walking the same path I was—discovering the roots of their anger. The fact that you are reading this review means you need this Course. You won't regret it.
PaulMinistry Leader
This Course is an Incredible Value!
Over the years I tried professional counseling for my anger.
It didn't work for me because I was prideful and blamed others for my problems.
But… counseling can work if you find the right counselor and stay with it for multiple visits.
But before you spend that kind of money, why wouldn't you try this Course and see if it works for you? It's simple and smart! Study anywhere. Watch the videos and work through the questions, even while traveling!
Invite a friend to join you and get even more out of the Course!
No-Risk, Full Refund Guarantee within 7 Days of Purchase!
The Complete YIELD anger Course
PER PERSON
$99.99
29 Videos on Anger

Discovery Sheets for each Video

Key Worksheets

Student Community
Still UNSURE? Then DO these two things…
1. Download our free "Facts About Anger" pdf
Frequently Asked Questions
How much time does this Course take?
Each video is 5-10 minutes long. Then it will take 5-10 minutes to answer the questions in your Discovery Sheet. Each lesson can be viewed from a phone, tablet or computer via the internet.The goal of this course is life change, so you should work through the course at a relaxed pace which allows you to digest the truths and apply them to your life. Don't rush through because we have designed the process to change your heart not just fill your mind.
Should I do this Course with Friend(s)?
YES! YES! YES! Our experience is that those who do this Course with others gets sooo much more out of it. By sharing and hearing other's perspectives it increases the impact of the course! Plus being with other students maximizes your accountability and motivation. Find a friend and do the Course!
How difficult is this Course?
It's simple. Each lesson and module is designed to build upon the previous ones so that you can learn at a gradual pace. The course is not difficult. But, you will need to make a commitment. Do the course with someone else and schedule times to discuss what you've learned. Use ZOOMtm OR just meet in person.
What if I don't think I'm an Angry person?
Anger has a variety of expressions. For that reason many people don't believe they have any issues with anger. But if you noticed in the testimonials, people of all types have found great value in learning about the Yield method. Many have found that they had larger issues with anger than they had ever considered.
What if I get stuck or have technical issues?
Submit a help ticket HERE. Normal support hours are 9-5pm CST! We will get you going again. Before sending an email, make sure you reload your browser first!
What if I am still not sure?
This Course is helping you tackle a common problem area that almost everyone struggles with. Either you don't think you have an anger issue or you are concerned this course will not help you. I would recommend for the first question that you ask others if they see issues with frustration, anger, irritation, impatience or bitterness in you life. And if you are worried that the course will not help you, then purchase it, go through several of the lessons and remember, you have our 7-Day Guarantee!
When something good happens in life, you want to tell everyone, right?
That's why I developed this Course.
It was my way of offering to others something that changed my life. Before I learned about YIELD I was doing this. Doing the same things over and over
and expecting a different result.
Because my Anger was controlling me and making those around me miserable.
But, you and I have a choice with Anger.
We can begin a new direction in our life, free from the effects of personal anger or
we can settle for the ongoing damage that anger causes.
I hope you will step up and join me in experiencing an Anger-free life!
[thrive_global_fields id='1′]
[thrive_global_fields id='8′ static-link='{"className":"tve-froala fr-basic","href":"https://www.yieldanger.com/terms-and-conditions/","target":"_blank","class":"tve-froala fr-basic"}'] | [thrive_global_fields id='6′ static-link='{"className":"tve-froala fr-basic","href":"https://www.yieldanger.com/privacy/","target":"_blank","class":"tve-froala fr-basic"}'] | [thrive_global_fields id='7′ static-link='{"className":"","href":"https://www.yieldanger.com/disclaimer","target":"_blank","class":""}'] | [thrive_global_fields id='9′ static-link='{"className":"tve-froala","href":"https://www.yieldanger.com/contactus","target":"_blank","class":"tve-froala"}']